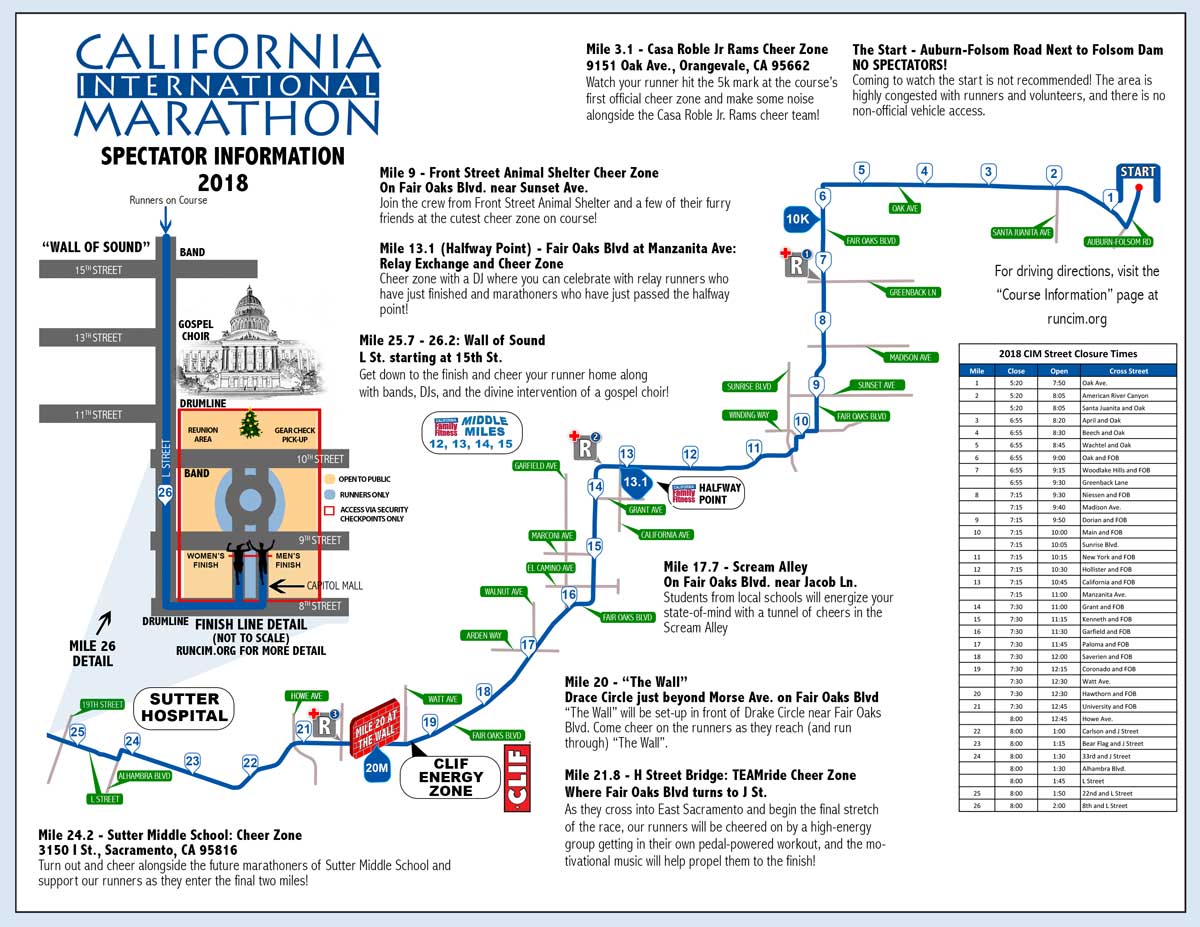 Its that time of the year again on Sunday, December 2, 2018, CIM will be back on the streets of Sacramento.
CIM is a great event that attracts runners from all over due to that fact that it is an easier course that counts as a Boston Marathon qualifier
.
If you are running support crew for your favorite runner and want to cheer them on we will share our time-tested system
.
Our approach is a little different we try to stop at several locations with adequate time between to travel and park
. The CIM spectator has plenty of options. Our favorite locations to cheer from are spots where we are less likely to miss our runners.
Where to watch CIM? since the race runs through the middle of town down Fair Oaks Boulevard.
Egress between the HWY 50 corridor and the HWY 80 corridor is difficult if not impossible in the morning hours
. For the race spectator and supporter, we recommend choosing a side first thing in the morning. You will need to be patient as there will be traffic.
The North side of Fair Oaks Blvd is the side that we prefer. There are many reasons why but the road system allows for more stops north of Fair Oaks Blvd. Here are our favorite stops.
Fair Oaks Blvd and Greenback ( 7 miles ): This is the first stop on our list. This is a big intersection and there are lots of room for spectators here. Parking is easy to find here as well. It is also early on in the run so the runners are fresh if you know the approximate pace of your runner you can reasonably predict when they will be here. Also if you are supporting more that one runner this is a great spot because they are not too spread out at this point in the race.
Fair Oaks Blvd and Manzanita( 13.2 Miles): This a great location, get here a little early and visit the Noahs Bagles so you can refuel

. The ninety-degree turn here allows you to look and cheer while having a good view to locate your runner. This is also one of the relay locations.
Watt Ave and Fair Oaks Blvd(20 Miles): " The WALL " This is a must stop location. Parallel park on Watt Ave. and walk to Fair Oaks Blvd.

This is usually a great stop for spectators but more

importantly

, your runner is at the 20 Mile mark and could

really

use your support

.
The FINISH LINE: Of course the finish is the best. Enjoy the post-race festivities and don't forget to stop by and see us at vendor row in the Body Map 360 Van. We will be happy talk to you about how a DXA body composition scan fits into your fitness program.
NOTE: If you choose to view the race from the Southside simply omit the second stop at Fair Oaks Blvd and Manzanita. We assume that you are NOT starting at the race start. We do not recommend going to the race start, It is chaotic and you will not be much help for your runner there.
If you follow those four stops you should have adequate time to travel and find parking. We have refined this route over the years and believe it to be the best set of stops. We know it can be a little bit daunting as support staff because you may miss your runner. Our recommendation is to note the expected pace of your runner and do your math. If in doubt assume that they are running a little bit slower pace before leaving a stop. Of course, it is always nice when your runner wears something to differentiate them from the pack!
We are looking forward to this years California International Marathon. Over the years everyone at Body Map 360 has participated in CIM, it is a winter favorite. Have a great time and enjoy CIM 2018!!
You can find more information on the CIM Website
HERE